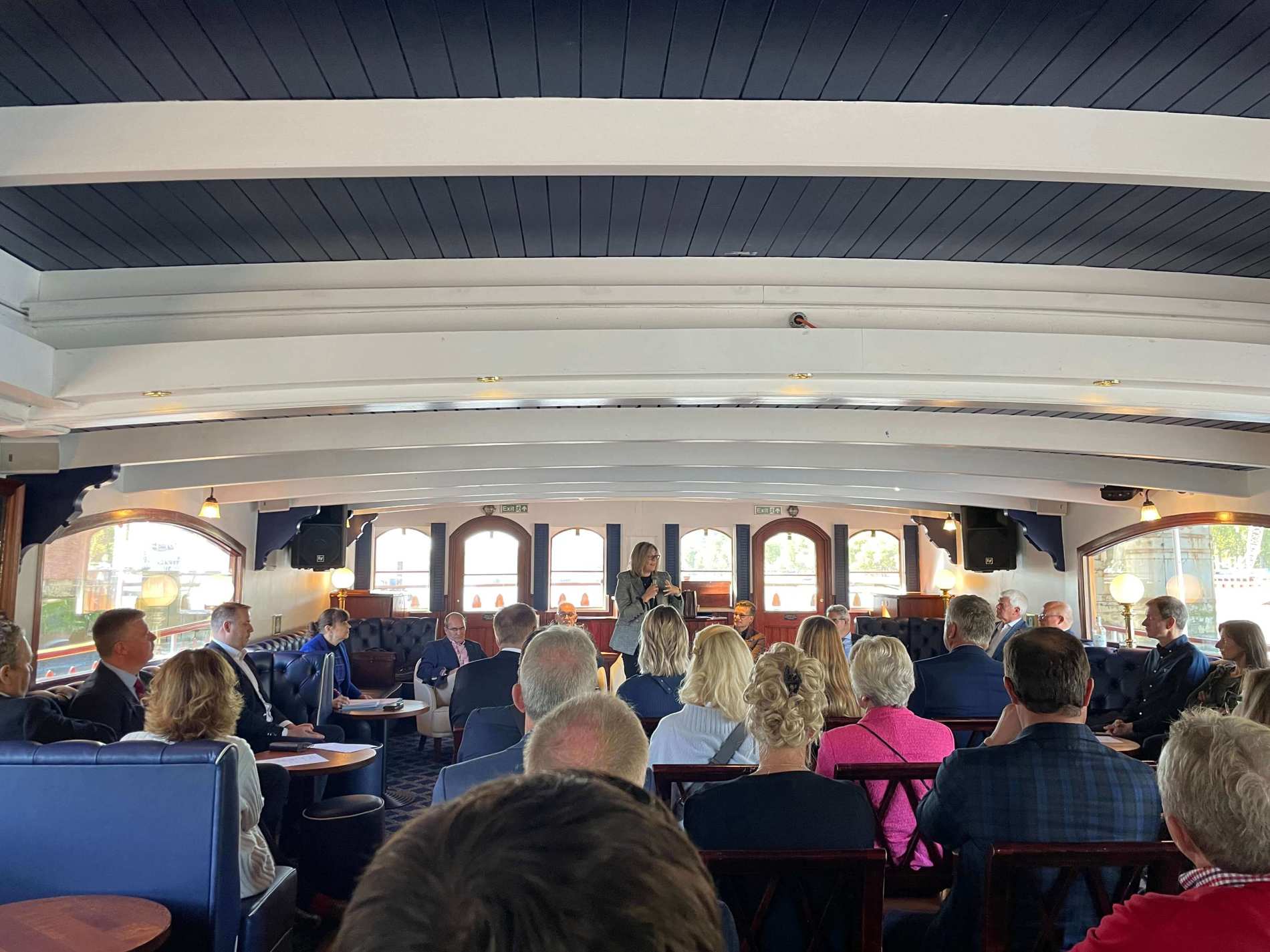 The Benefits of Sharing
27/10/2022
In October Joshua Adams Menswear Director, Stephanie Norris attended her first Independent Menswear Company (IMC) event, she had been asked to provide a talk on relationships between retailers and suppliers to present to colleagues within the industry.
The event was held on the River Thames, a fabulous venue for menswear independents throughout the country to convene and share knowledge, benefitting from each other's experiences. With five speakers presenting on a wide variety of topics including three retailers and two suppliers, Stephanie, along with business partner husband Ray found the event highly informative and beneficial. Sharing with others in the industry provides an overview on the market as a whole.
Stephanie's presentation was well-received by industry peers, she discussed the carefully planned growth of the Joshua Adams business through collaborating and cementing their relationships with suppliers, even partnering with a supplier to create Joshua Adams branded suits, a huge coup for the business, which is already proving successful. During lockdown they increased stock levels of core products, invested in the business's bespoke customer facing and workflow technology, upskilled staff, recruited and analysed the target market, all with a view to massively ambitious growth in years 2021-2023. Whilst it was a risk, this time of reflection and insight paid dividends, ensuring the business was well placed for high demand for when retail doors were permitted to re-open following the pandemic.
The collaboration with suppliers has provided a win-win situation, allowing the business to grow three-fold since the start of the pandemic. The relationships allow the business to be forewarned of any supply issues, which has been hugely useful with issues in the last year like all retailers, Joshua Adams has faced increases in cost of sales and problems with supply chain fulfilment plus countless late 'into season' deliveries it has been a difficult balancing act, there has been many challenges throughout 2019-21. In turn, the feedback to suppliers from Joshua Adams in their customer-facing capacity has proved invaluable, it's a mutually beneficial relationship. The supplier relationship building has allowed the business to hugely exceed its objectives for 2021-23.